Pengaruh dari Penggunaan Teknologi Informasi terhadap Kinerja Pegawai di PT Erajaya Swasembada Tbk
Moehamad Putra Setiawan

Universitas Amikom Purwokerto

Nurfaizah

Universitas Amikom Purwokerto
Keywords:
Evaluasi, Implementasi, SAP
Abstract
Untuk meningkatkan daya saing perusahaan dan efisiensi manajemen dokumen, sangat penting untuk memanfaatkan teknologi seperti System Application and Processing (SAP). Penelitian ini bertujuan untuk mengevaluasi penggunaan sistem SAP terhadap administrasi di PT Swasembada Tbk dan upaya penanggulangan dampak negatif penerapan sistem SAP. Metode yang digunakan adalah deskriptif kualitatif dengan teknik pengumpulan data melalui observasi, wawancara, dokumentasi dan studi literatur. Hasil penelitian menunjukkan bahwa dampak positif penerapan SAP di PT Erajaya Swasembada Tbk adalah pemilik perusahaan dapat memantau data secara langsung menggunakan SAP, serta komunikasi yang lebih baik antar divisi administrasi lainnya, lebih banyak komunikasi antar divisi dalam perusahaan, pemilik perusahaan dapat menyetujui dokumen melalui sistem SAP, aliran dokumen diklasifikasikan dengan jelas. Sedangkan dampak negatif penerapan SAP terhadap administrasi di PT Erajaya Swasembada Tbk adalah lambatnya penyusunan dokumen pengiriman, proses pengiriman dokumen dan pembayaran yang disetujui melalui sistem SAP harus dilakukan persetujuan kembali secara manual, uang yang keluar dari administrasi keuangan harus menunggu dokumen pendukung untuk diselesaikan dengan menggunakan SAP dan disetujui kembali oleh atasan. Upaya yang dilakukan PT Erajaya Swasembada Tbk adalah merencanakan pengiriman secara berkala, melakukan alur dokumen sesuai standar SAP, melakukan pelatihan dan pertemuan rutin secara berkala.
References
Andirfa, M. (2020). Pengaruh System Application And Products In Data Processing Terhadap Kinerja Manajerial (Studi Kasus PT Pupuk Iskandar Muda Lhokseumawe) kerja perusahaan. Benefit Enterprise Resource Planning. 4.
Andisty, M. P & Harmain, H. (2023). Penerapan System Application and Product (SAP) pada Administrasi Kepegawaian (Penerima Santunan Hari Tua (SHT)) di PT Perkebunan Nusantara II Kebun Bandar Klippa. Al-Kharaj: Jurnal Ekonomi, Keuangan & Bisnis Syariah, vol.5, No.3, hal. 1291-1298.
Creswell, John, W. (2016). Research Design : Pendekatan Metode Kualitatif, Kuantitatif dan Campuran. Edisi Keempat (Cetakan Kesatu). Yogyakarta : Pustaka pelajar.
Dewi, I. S., Murdiyanto E & Provost, R. (2023). Evaluation of the implementation of system applications
and product in data processing (SAP) on spare part delivery of 'TB. Voyager 7' at PT Bahtera Energi Samudra Tuah. AIP Conference Proceedings 2675, 040007.
Elbahri, F.M, Ismael, O., Al-Sanjary, M. A., Ali N & Ibrahim, N. (2019). Difference Comparison of SAP, Oracle, and Microsoft Solutions Based on Cloud ERP Systems: A Review, IEEE 15th International Colloquium on Signal Processing & Its Applications (CSPA), Penang, Malaysia, hal. 65-70.
Glas, A & Kleemann, Florian. (2016). The Impact of Industry 4.0 on Procurement and Supply Management: A Conceptual and Qualitative Analysis. International Journal of Business and Management Invention.
Lubis, P. D. K., Lubis, I. T & Muda, I. (2021). Management Process Administration In Enterprise Resources Planning (ERP) Systems Applications And Product In Data Processing (SAP) In PTPN III Seidadap. Journal: Ecoforum, Vol. 10, No.1, Hal 24-30.
Mahmud, B. (2019). Internet of Things (IoT) for Manufacturing Logistics on SAP ERP Applications. Journal of Telecommunication, Electronic and Computer Engineering, Vol. 9, No. Hal. 2-6.
March, S. T., Smith, G.F. (1995). Design and natural science research on information technology. Decision support systems, Vol.15, No.4, Hal.251-266.
Pan, K., Nunes, M. B & Peng, G. C. (2011). Risks affecting ERP post-implementation: insights from a large Chinese manufacturing group. Journal of Manufacturing Technology Management, Vol. 22, No.1, Hal.107-130.
Steinfeld, E & Danford, G.S. (1999). Theory as a basis for research on enabling environments. In Enabling Environments. Springer, Boston, MA.
Supriyono, S & Sutiah, S. (2019). Improvement of Project Management Using Accelerated SAP Method in the Odoo ERP. Proceedings of the 1st International Conference on Management, Business, Applied Science, Engineering and Sustainability Development, ICMASES.
Wahyuddin, W., & Afriani, M. (2018). Pengaruh Penggunaan Software Akuntansi System Application and Product (Sap) Dan Kualitas Nilai Informasi Pelaporan Keuangan Terhadap Kepuasan Pengguna Software Akuntansi (Studi Kasus Pada Pt. Pln (Persero) Kantor Wilayah Aceh-Kota Banda Aceh). Jurnal Akuntansi Dan Keuangan, Vol. 6, No.2, Hal. 115.
Yarramalli, S.S., Manasa P. R. S., & Koteswara R. S. (2020). Digital Procurement on System Applications and Products (SAP) Cloud Solutions. Second International Conference on Inventive Research in Computing Applications (ICIRCA), Coimbatore, India, Hal 473-477.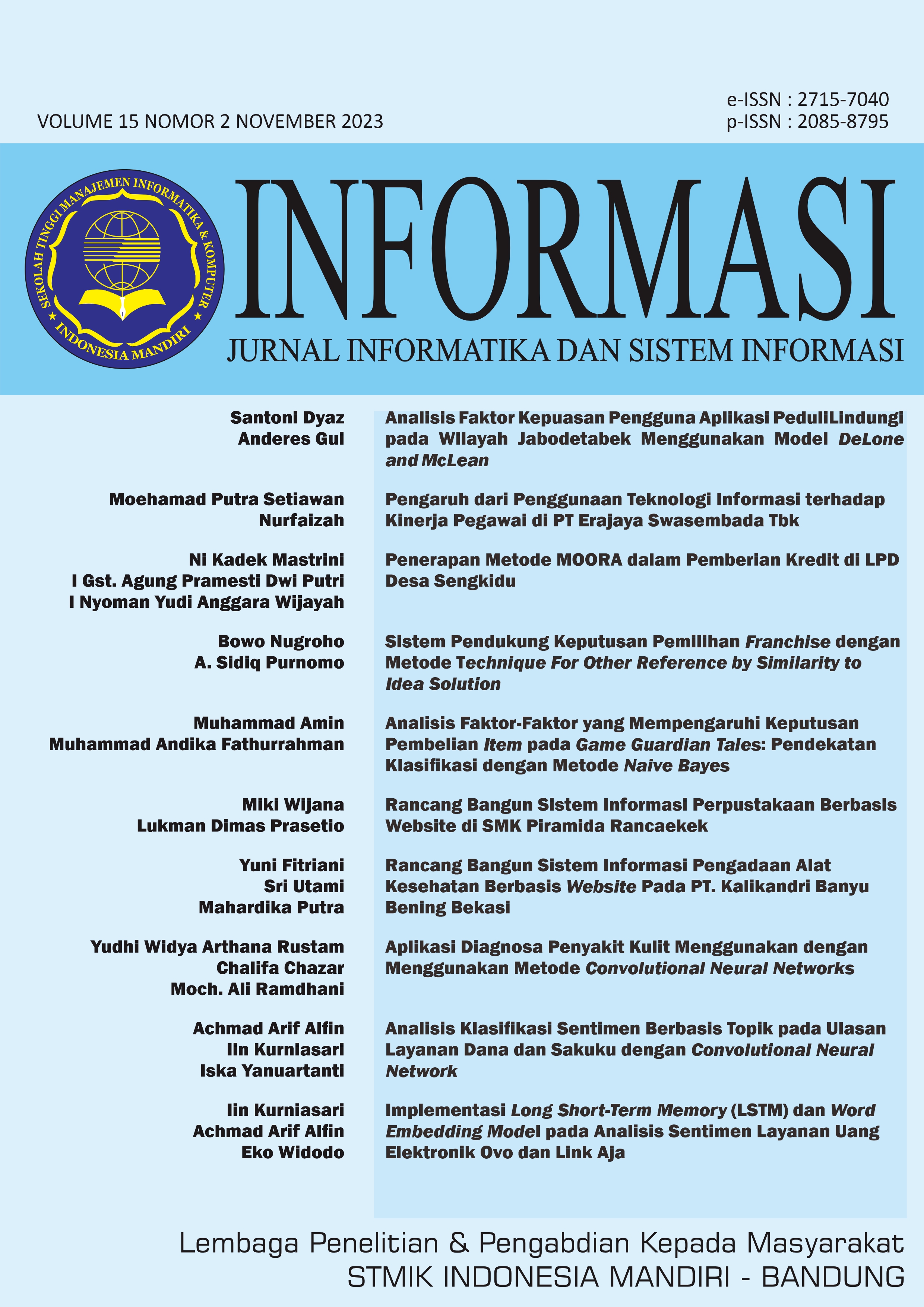 Copyright (c) 2023 INFORMASI (Jurnal Informatika dan Sistem Informasi)
This work is licensed under a Creative Commons Attribution 4.0 International License.
Tanggunjawab Penulis
Penulis menyajikan artikel penelitian atau hasil pemikiran secara jelas, jujur, dan tanpa plagiarisme.
Penulis harus menunjukkan rujukan dari pendapat dan karya orang lain yang dikutip.
Penulis bertanggungjawab atas konfirmasi yang diajukan atas artikel yang telah ditulis.
Penulis harus menulis artikel secara etis, jujur, dan bertanggungjawab, sesuai dengan peraturan penulisan ilmiah yang berlaku.
Penulis tidak keberatan jika artikel mengalami penyuntingan tanpa mengubah substansi